In the world of sex news there has been one hot topic for the last few months: sex robots. Sex robots and realistic sex dolls have been on the lips of everyone. People are either amazed at how lifelike these dolls are or they are horrified that people might soon be having sex with dolls more than people.
There are some reports claiming that they would be the biggest trend of 2016, but given that most people were simply debating the morality of them, we don't think they were particularly accurate.
Yes, sex robots were a big topic of conversation in 2016, but that was because the world suddenly became obsessed with the idea that giving sexbots artificial intelligence would spell trouble for us. Some people even suggested that they might fuck us to death. So why are we worried about sex robots?
Taking the humanity out of sex
One of the biggest concerns is that we are taking the humanity out of sex. By giving people realistic sex dolls to fuck, people are going to suddenly decide that they don't want to be with a real person any more.
People believe that we will start replacing each other with sex dolls and robots. Relationships are complicated, and sometimes you want to enjoy some fun without any strings attached. Yes, a robot could do that for you… but are we all really going to suddenly find the idea of being with a robot sexier than another person?
For some, the answer is "yes". Why? Because if you want to fuck a robot then you don't care about people. No, we aren't entirely sure how people might have come to this conclusion either. The desire to have passionate sex with a doll is a fetish, just like a love of feet or leather.
There is also a concern that the robots will never be able to mimic humans 100%. This means that, no matter how good it feels, it won't be the same as a real person. This is supposed to mean that we will stop longing for human contact and that, when we do have that contact, we won't know what to do. We'll stop being able to function properly.
"You look familiar…"
One of the biggest turn ons for those of you keen to try out different sex dolls and robots is that you find some that have been modelled on real people, such as your favourite celebrities. For a price, you could enjoy having sex with the hottest actresses on the big screen at the moment.
This creeps people out. They start talking about "the uncanny valley". The uncanny valley is when something looks close to, but not quite the same as, the original. So in terms of sexbots, they think that they look just different enough to make people feel uncomfortable.
Plus, they hate the idea of you having sex with something that looks similar to someone else. You might as well have sex with them in person, right?
When it comes to your favourite celebrity, it isn't that easy. You might be hoping that you had their number saved in your phone, ready to call when you feel horny. But the chances are you don't. For a lot of people, they can't see how this is bringing your imagination to life. After all, you jerk off while thinking of your favourite celebs… a realistic sex robot would just be an extension of this, right?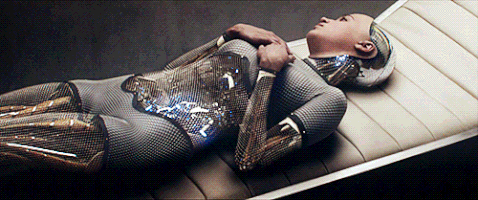 They could kill us!
There are so many different sci-fi films out there where humans created robots with artificial intelligence. These AI seem to live happily with us for a number of years. Suddenly there is a plot twist we all saw coming and we are at war with each other.
The robots start trying to kill us. Our over-active imaginations mean that the sudden increase in talk about sex robots means only one thing… they are going to, at some point, try to kill us. If they don't do it intentionally, it will instead be because they have fucked us to death. For some people that might be a dream come true.
But the whole point of adding AI to these machines is so that they don't go too far. Plus, a number of them would have an off switch you could hit if things did get far too intense for you.
Not convinced that sex robots won't try to fuck you to death? Girl On The Net wrote an incredible piece on why you probably won't be killed by a sex robot, so take a look and see if you can put your mind at ease.
http://media1.break.com/dnet/media/152/865/2865152/female-sex-dolls-with-artificial-intelligence-are-going-to-be-a-reality-image-1.gif
http://www.break.com/article/artificial-intelligence-sex-dolls-2865151
Are you worried about sex robots?
Personally, I'm not too worried about the idea of sex robots. They might not be for me, but that doesn't mean people shouldn't use them. They are masturbatory aids, just like masturbation sleeves, dildos, and vibrating cock rings. The only difference is that they are on a much larger scale.
But that is just what I think. Do you agree? Should we be worried about sexbots taking over? Let us know what you think by leaving a comment in the box below. You could even vote in the poll to quickly share your thoughts!
Lara Mills is a writer who has four years of sex industry expertise behind her. Since she entered the adult industry, she has worked on the Escort Advertising forums, before moving into her current role three years ago.

Since then she has gained a fine reputation with her blogs on sex advice, sexual health and amusing news stories from around the globe. She is also a campaigner for the rights of sex workers from all over the world.

In her spare time, Lara keeps herself active by going running, and is something of a film buff. She also loves to go travelling.
Latest posts by Lara Mills (see all)