As a millennial that's always aware of the world around her, it's almost impossible for me to not hear about the latest trends that are currently happening in our society.
I was one of the first to hear about Miley Cyrus' twerking fiasco at the VMAs in 2013, the first to know that Harley Quinn was going to be the most popular character from Suicide Squad, and the first to see the pidgeoto haircut making a comeback from 1980's Italy. Additionally, I was one of the first people to realise that there is a trend where girls have a lot of ink on their bodies.
Guys have had this preference for tattooed women for a few years now, but tattoos aren't something that women would get just to please men, aside from the ones that tattoo their boyfriend's name onto their backs to make a tramp stamp. Nevertheless, I couldn't help but wonder what the fascination was for alternative girls amongst men of all sizes and ages.
The 'bad girl' vibe
Whenever girls see a hot guy with sleeves on his arm (when I say sleeves, I mean tattoo sleeves), they automatically think that he's the Edward Cullen of the realistic, mundane world that we live in; he'd be known as the bad ass in town.
The same logic applies to girls, if a guy, or a group of guys see a lady covered in tattoos, most of them would think 'Ooh, she doesn't look like a good girl.' That sounded superficial and air-headed, I know, but that's the way how most people would think.
Furthermore, there seems to be a knock-on effect with this bad girl vibe; after thinking that the inked girl is a bad girl, some guys would automatically think that she's into some dirty stuff, which isn't always the case. However, the Sasha Grey effect is embedded in the bad girl vibe that tattooed girls unintentionally express.
The 'coloured canvas' look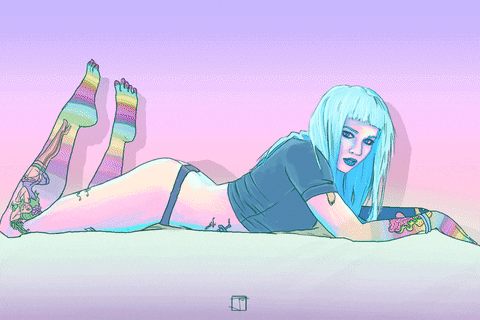 If you're easily distracted by bright colours, then the chances of you getting run over by a truck while eyeing a girl with a phoenix tattoo on her thigh are very high.
It's a beautiful thing for women to do, painting a gorgeous collage on their canvases. A girl with tattoos is also known to be a show-stopper in the middle of a street, or in the living room of a house party; the ink is the art that they wear.
Think about it, you'd gaze at a nude photo of Katy Perry for more than 10 seconds to observe the impressive detail on the paper or canvas.
So, it's normal for you to look at the amazing artwork on a lady's arm, thigh or back. Just make sure that you're not pulling a weird face while you're looking her, otherwise, you'll give her the impression that you are a weird pervert.
The 'not giving a fuck' attitude
If you've met a woman that's covered in tattoos before, then you'd know that most of the other inked girls don't have their minds trapped in the 1950s. Then again, the 'not giving a fuck attitude' that most of the inked girls would have don't always imply that they have a modern mindset. They might be women that see themselves as housewives, or ladies that adore Kim Kardashian over Margaret Atwood.
They might be girls that favour capitalism over socialism, or women that want to pay for the whole dinner bill on her first romantic date. Whatever their beliefs and interests are, as long as they stick to their guns and not be wavered by the ruthless tongue of society, they will always be deemed sexy amongst most of the men they'd meet.
Seriously, nothing turns a guy on more than confidence and boldness, which actually gets them more hard then they should. If a guy can find an inked girl that is confident in both herself, in the bedroom, he will feel like he's been fucked by a Spartan goddess.
People, beauty is in the eye of the beholder, and the depiction of beauty is subjective amongst all men and women. But it is interesting to learn and understand how a certain kind of physical attribute can turn a person on.
The reasons as to what makes a tattooed girl deemed sexy to men are all written from my point of view; I don't have a cock or a male brain, so I can empathise with you guys. But if you want to tell me about your thoughts and opinions about inked girls, leave your comments in the section below, or on the community forum, or even on my twitter page.
Zoe Jaspers has worked in the adult industry for over a year, but she has already gained a fantastic reputation in the field. As a writer, she is passionate about bringing the reader some of the most interesting blog content around.

She is possibly most famous for her erotic stories, but is equally adept at giving top quality sex advice, all the time bringing in her 'personal experiences'.

When she isn't sharing her most intimate encounters, Zoe keeps herself active by watching videos on Youtube, and listening to music.
Latest posts by Zoe Jaspers (see all)