The world of porn is huge, and many porn websites have hundreds of different categories for you to choose from when it comes to your viewing pleasure. You might find that you want to watch some sexy lesbians getting it on, or you might want to venture into the world of weird porn. However, there is one growing area of porn that we can't seem to stop talking about: VR porn.
VR porn, or virtual reality porn, is becoming huge. It used to be a dream for the future, that one day we could slip on a headset like in Demolition Man and get to enjoy something intense fun in a totally different way. However, instead virtual reality headsets are now really affordable to buy, so you can actually enjoy virtual reality porn without breaking the bank.
For a lot of people though it seems that VR porn doesn't feel as good as it should. In fact, many people feel as though it is just a gimmick to try and get people watching more porn. So, what is so good about virtual reality porn and why might people feel it is a bit of a gimmick?
Why VR porn stands out
When it comes to porn, the camera is fixed in one spot. You either get to look at the video from the point of view of the camera crew, looking on from the side, or you can enjoy POV porn, which puts you in the eyes of one of the porn stars having fun fucking. Many people prefer to watch POV porn, as it makes them feel as though they are the ones being fucked as they slide their hand up and down their cock.
Virtual reality porn is basically like POV porn. It puts you in the eyes of the person being fucked. However, the key difference is that you can actually turn your head in the real world and the person you are in the porno will do the same.
The special cameras used give you the chance to enjoy a 360 degree view of the entire set, which is perfect for those threesome fantasies you were hoping to explore. You can change your point of view to look from one sexy lady to the other, and the fact that you are in control is a huge turn on for many.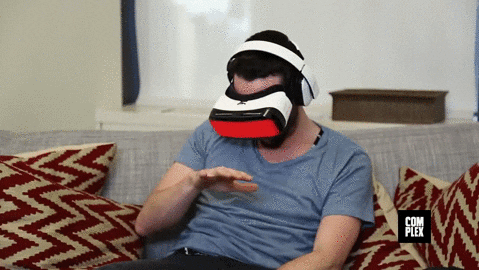 Cheap VR technology
The huge advances in technology mean that virtual reality technology is now readily available. Sure, you could spend a lot of money on a VR headset, but you can also get some for cheap. This means that, no matter your budget, you can be enjoying VR porn without breaking the bank!
All you really need is a smartphone or a computer. Most smartphones are capable of playing VR porn, and when you turn the phone, your view will change. By adding your phone to the headset, you can take your porn on the go, making it totally portable.
However, you can also spend a lot of money on headsets. These headsets need to be plugged in to a computer, but the higher quality of the headsets means that you are more likely to feel as though you are really there, enjoying the kinky fun that is going on around you. No wonder we love it so much!
Is it a gimmick?
A lot of people can't help feeling as though virtual reality porn is just a gimmick. They don't quite see why it is necessary. Yes, they love the novelty of being able to turn their head and change what they see while they watch porn, but they also feel like it makes it harder to really concentrate on what is going on.
Another big negative for VR porn? It's not exactly easy to switch off when someone walks in on you… and since you have a headset on, the chances of you realising you are not alone are lower. You might be clueless as you watch your favourite porn star bounce up and down on a dick as someone watches you jerk off. Definitely a turn off for many people!
Former porn star Sasha Grey has recently spoken out about virtual reality porn, explaining why she believes it isn't a great idea. "I don't think people watch porn to have a real experience, it's for fantasy. VR porn is like watching porn on a big-screen TV… I don't want it to be too real."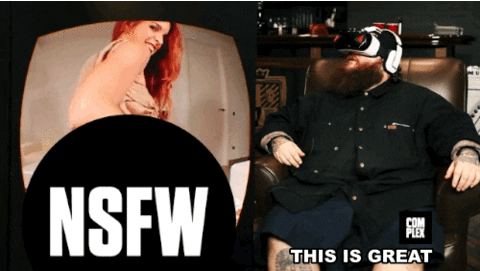 Do we enjoy virtual reality porn?
Virtual reality is fantastic in some circumstances… but in porn? We're not too convinced about that one. It does seem a lot like a gimmick that has been added simply to get people buying more headsets, instead of actually enjoying porn. I've had some experience of VR porn, and while it is interesting at first, I don't think it is any more enjoyable than any other type of porn and feel as though there are so many more advances that we can make in the future for adult entertainment.
That said, some people seem to really enjoy virtual reality porn. They love that it puts them in the driver's seat and allows them to see what they want to see, instead of forcing you to follow the camera.
What do you think? Do you think it is a great idea or is it just a gimmick that will soon die out? We want to hear what you think, so let us know by leaving a comment in the box below or by heading over to the Escort Norway blog. You could even simply take a look at how people feel about virtual reality porn by checking out the reaction video below.
Lara Mills is a writer who has four years of sex industry expertise behind her. Since she entered the adult industry, she has worked on the Escort Advertising forums, before moving into her current role three years ago.

Since then she has gained a fine reputation with her blogs on sex advice, sexual health and amusing news stories from around the globe. She is also a campaigner for the rights of sex workers from all over the world.

In her spare time, Lara keeps herself active by going running, and is something of a film buff. She also loves to go travelling.
Latest posts by Lara Mills (see all)