Porn is a great tool for us to enjoy when we are in the mood to masturbate, but sometimes it can feel as though our hand just isn't enough for us. We feel like we need something extra to make us feel good, and sex toys can do just that. These tools are able to please us in ways we never imagined.
Most of the time when we talk about sex toys, we tend to focus on the toys for women… but what about the male sex toys? There are plenty out there, and not all of them look the way that you might expect them to.
Fleshlights and cock rings have proven to be some of the most popular male sex toys you can buy, but what else is there? Here on the Escort Norway blog we take a look at some of the more unusual male sex toys you can buy.
Venus for men
If you have been tempted to start looking at fucking machine porn online then you will not be alone. It is one of the most popular types at the moment, as you get to sit and watch a woman riding a toy to orgasm.
They are supposed to be some of the most powerful sex toys out there, which makes us curious about an alternative for men. If there is something this strong for women, that can bring them to orgasm so intense they feel as though they will hop off the device, what is there for men?
Sybian have stepped forward to create the Venus for Men. While this toy looks more like a a mix between an amp for an electric guitar and a car battery than a sex toy, it is supposed to give incredible orgasms for men.
It is described as a "high-tech, hands-free masturbation machine", but it will cost a lot of money for you to buy. This toy will cost $956 to buy. A steep price for a sex toy!
The Autoblow
You might have heard about the Sqweel, which is "the world's best oral sex simulator for women". For men, there is the Autoblow. This is "the crowdfunded blowjob robot everyone is talking about!"
For those who enjoy masturbation sleeves, this works in a similar fashion. You slip your cock inside of it, as you would with a sleeve, but what makes this one of the more unusual sex toys is that this is where you actions end.
From there you can simply switch on the device. The toy will jerk you off and is said to feel like you are receiving a blowjob. Reviews are, understandably, mixed. Many seem to be happy with their purchases, but some declare that it is "not as good as a girlfriend".
The problem for this toy is that, like the Sybian Venus, it has a hefty price tag. Sure, it might not cost as much, but to buy the basic "Autoblow 2+" without any extras will set you back $209.95. Ouch.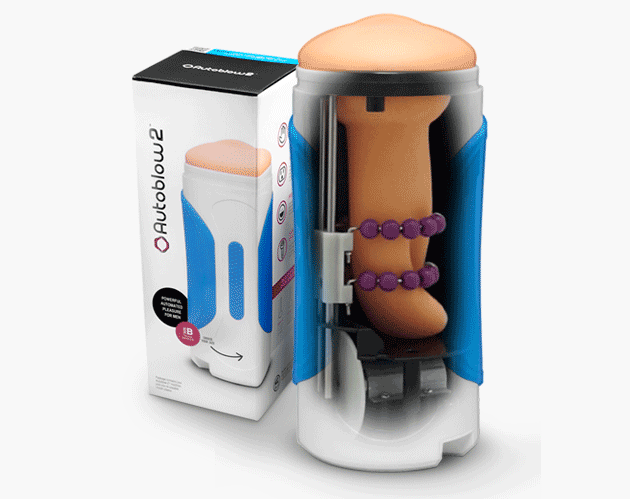 The Tenga Flip
Some of the most popular types of sex toys in the bedroom are vibrators. If you aren't satisfied with one of these for you, you can instead try out a guybrator.
These male sex toys work exactly as you might imagine. You will lube up the toy, slip your cock inside, and turn it on. The toy will then vibrate for you while you slip your cock in and out.
It will work in a similar way to a male masturbator, but with an extra something. The vibrations will make it feel incredible for you, and it will certainly spice up your masturbation!
Out of all of the male sex toys we have talked about, these guybrators tend to have the best prices. The Tenga Flip Hole Zero will only set you back $105.02, making it the cheapest on the list.
Other unusual male sex toys
There are so many different types of male sex toys out there, but a number of them are expensive or bulky, as we have seen above. You might find that it is worth saving up money until you can buy the toy you want, instead of splashing out on a toy that does not work the way you want it to.
Do you own any male sex toys? We'd love to hear from you, so let us know about them by leaving a comment in the box below. Don't own one? You can still talk about what you would want in a sex toy!
Lara Mills is a writer who has four years of sex industry expertise behind her. Since she entered the adult industry, she has worked on the Escort Advertising forums, before moving into her current role three years ago.

Since then she has gained a fine reputation with her blogs on sex advice, sexual health and amusing news stories from around the globe. She is also a campaigner for the rights of sex workers from all over the world.

In her spare time, Lara keeps herself active by going running, and is something of a film buff. She also loves to go travelling.
Latest posts by Lara Mills (see all)