There's nothing better than doing the ultimate 69 position with your childhood sweetheart, or your short-term girlfriend, or even from a fuck-buddy that you've met at a nightclub on one average Saturday. But every once in a while, you want to step up your clit-licking game, and make your girlfriend remember that one night when she looked like a Chinese puzzle and sprayed a fountain of cum at the same time.
Sure, having a hot woman on top of you is one thing, but getting to suck and fuck in a position that you'd only find in hardcore porn is worth doing at least once in your sex life. Additionally, nothing feels better and hotter than a girls tongue on your cock, and a lady's cunt on your mouth. But how could you up your pussy-licking skills?
#1 The Golden Gate 69
It's more difficult for the female than the male to perform this kind of 69 position, but it's still your responsibility to make sure that she's comfortable. While you're lying flat on the bed with her pussy on your lips, you should give her some support by holding her back up with your hands.
If you feel daring, you should tell her to place all of her weight on your hands, so she can bend her back easily without the worry of landing on your cock and balls. Therefore, the Golden Gate looks simple, but it's difficult to act out; never judge a sex position by the way the pornstars do it.
#2 The Reverse 69
You may be thinking,
'What's so advanced about this position, it's just a normal 69 but the other way round.'
Not every woman likes seeing a guy's hairy balls and ass when having a cock dipped in and out of her mouth, and not every woman wants to feel like their teeth are going to get knocked out by the brute force of the guy's hips. However, when done right, this position gives you good results and good orgasms.
The best place for your partner to lie down on would be the bed. Let her head hang from the edge so you can slide your cock down her throat, and gently place your torso over hers so then you would get a fantastic view of her moist pussy.
#3 The Face Off 69
If you're already starting to think about the 'Face/Off' movie with Nicholas Cage and John Travolta, stop. This is not the time to be thinking about cringy thrillers where people wear those god-awful 90's suits. When I first saw this position, I thought the name would include the word 'starfish' in it for the way that the female would look like, but apparently, there's a completely different stance that includes the word 'starfish', which is definitely not a 69 position at all.
Anyway, all you have to do is keep your lady in balance while she gives you a wonderful blowjob and stretches her calves at the same time. This is a particularly good position for women who know how to do their yoga. Who said that yoga is for pussies? From the way I see it, yoga is a great way for you to GET pussy.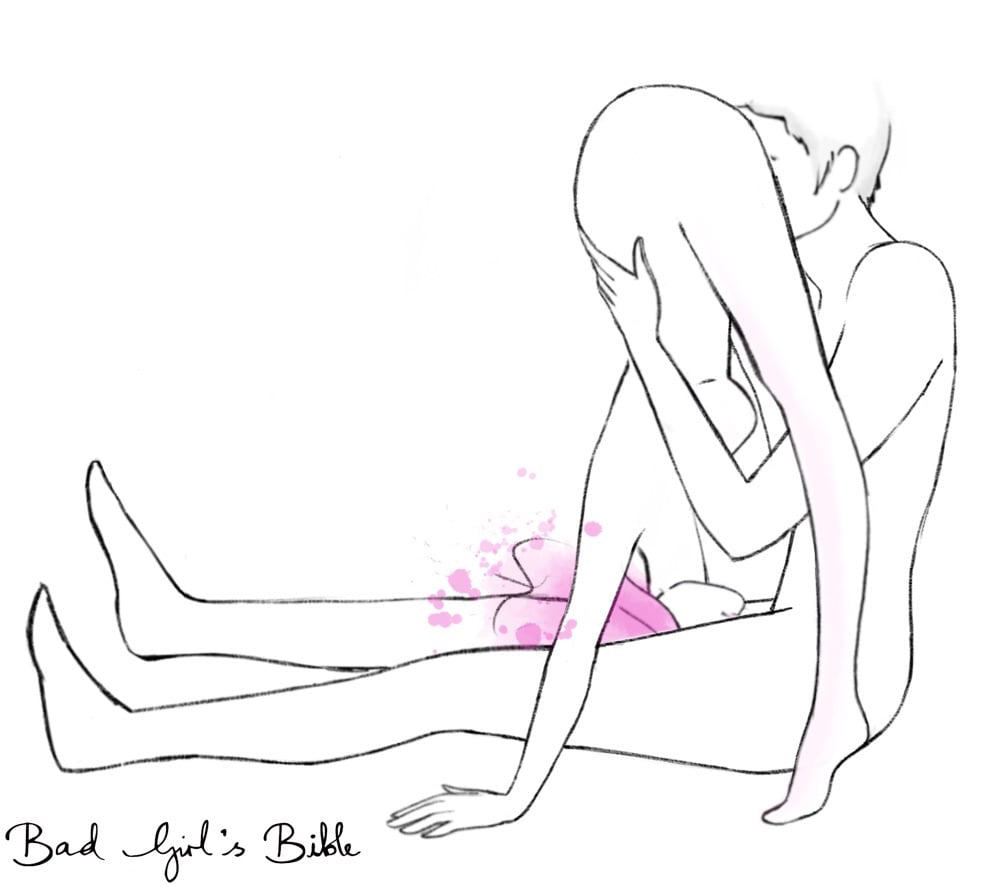 #4 The Suspended 69
I can't remember what his name is, but there is a famous male pornstar that is known to give a lot of cunnilingus to his ladies in this position. You better get into powerlifting and strengthen your lower back if you want to do this position, because there is a good chance of you breaking a bone if you try to get cocky while doing this position.
Oh, and strong arms. You better get some strength in your arms if you don't want to let your girlfriend slip from your fingers. If it would be your first time licking your lady's cunt in this position, it would be worth it for you to lean against a wall just in case you lose your balance.
But how would you be able to do this position in the first place? I know that this is going to sound a bit bad, but you should pick your fuck-buddy up as if you're going to do a WWE slam dunk on her, but you don't actually slam her into the ground. Remember that.
In fact, remember all of these 69 positions as well, because you never know when you're going to find a really hot girl in a nightclub, and take her back to your place when you can silence each other's mouths with your cock and pussy.
Zoe Jaspers has worked in the adult industry for over a year, but she has already gained a fantastic reputation in the field. As a writer, she is passionate about bringing the reader some of the most interesting blog content around.

She is possibly most famous for her erotic stories, but is equally adept at giving top quality sex advice, all the time bringing in her 'personal experiences'.

When she isn't sharing her most intimate encounters, Zoe keeps herself active by watching videos on Youtube, and listening to music.
Latest posts by Zoe Jaspers (see all)