It would be great if we could all claim that we are sex gods, that we are capable of making someone orgasm within moments. The truth of the matter is that, unless we get lucky, we don't know what makes our partner feel good unless we've known them for a while. It takes time to figure out what works for your partner. This is why it is always a good idea to have a few cunnilingus techniques to hand, just in case.
One method might not work on your partner, but another could. So instead of just hoping that your one technique will work, you can try a few and see which turns your partner on the most! Not sure where to start? Here are some of the best cunnilingus techniques you should know.
Focus your tongue outside
One of my favourite things to do when I'm alone and horny is read erotic stories. I can fantasise about what is going on, and there is a lot of it out there. However, one thing that I have noticed a lot through reading it is that people seem to believe oral sex on a woman requires using your tongue as a miniature penis and penetrating them with it.
Here's the deal: just don't do it. In your mind it'll feel like you are fucking them with your tongue. In reality it just feels uncomfortable and unsatisfying. Your tongue won't be able to penetrate deep enough to feel good, and it is going to strain your tongue.
Instead, focus your efforts on the outside of her body. Use your tongue and lips on her clit and slip your fingers inside of her if you really want. Your fingers, or a toy, will be much better at penetrating her than your tongue, so save yourself the strain.
Slow licks up and down
A lot of women find that it takes a while to build up to orgasm. This means that, while you might find the right technique, it is going to take her some time to get there. So don't rush it. Rushing it will simply put her under pressure, which can ruin the experience.
One of the best things you can do when performing oral sex on her is to think about teasing her. This will help you to slow things down and really build her up to orgasm. One of the best cunnilingus techniques I have found for this is to lick slowly up and down, focusing on her pussy lips and then her clit.
It helps if you make your way slowly towards their pussy. Lick your way along their thighs and move your tongue all the way around their pussy before you touch their sensitive spots. The more turned on they are the better it will feel. Their body will be more sensitive, which means that you can keep your licks soft. They'll still be effective and have them begging for more in no time at all.
Drawing circles
I have found that I am far too sensitive for direct attention on my clit. It actually becomes incredibly painful, and this is common for a lot of women. You can't just suck on their clit, as it will cause them pain and discomfort. Instead you have to find some other way to pleasure them.
You can use your tongue to draw small circles around their clit. You'll still stimulate their clit, but it won't be as intense. This helps to build them up to orgasm without being too much in one go.
Just be careful about your tongue position. Keeping it stiff and pointed is going to tired you out after a while. Flatten your tongue to not only save you the aches and pains, but also to allow you to touch more of her at the same time. It's a win win situation!
Suck if she likes it
Some women actually love having their clit sucked. Your partner might be one of those women, and there are a few different ways you can find this out. One of those ways is to, of course, try it out for yourself.
Obviously you'll want to start out slowly. Build her up to oral, as you would with any other sex act, and then gently place your lips around her clit. Suck gently and watch her reaction. If she seems to like it you can do it again. If not? Back off and try something else.
The important thing here is to suck gently. You aren't trying to suck her clit off of her body, and being too hard is going to hurt her. The clitoris is a bundle of nerve-endings, so treat it kindly. Be soft and gentle. If she wants more, she'll let you know.
Let her fuck your face
Dominance often finds its way into sex, and you can give your partner the chance to assert some dominance over you by letting her fuck your face. Usually this will involve her grabbing a hold of your head and pulling you into her. When she does this, it is often a sign that she is enjoying things and wants more.
This is your cue to go for it. You don't have to worry the same about keeping your mouth on her body, as she'll help to hold you there. Instead, just focus on making her feel good.
It can help if you also hold her hips. She will have a hold of your head while you grab at her hips to keep your mouth on her pussy. It shows that you love being there and can often be the thing that helps to push her over the edge.
Get her to show you
Still struggling to find the perfect cunnilingus techniques to try on your partner? You could always get her to show you. Many think of this as cheating, but it will give you the chance to learn exactly what she likes.
Present your hand to your partner's mouth as you are about to go down on them. Say that you want to spice things up a little, and that they are going to lick their hand how they want you to lick them. You'll copy their movements as you go down on them, so they are totally in control.
Yes, you are losing a hand to their mouth, but it will be incredibly sexy for you both. They can show you how they want you to lick their clit and, over time, you'll learn exactly how they like to be touched. You can even have them return the favour later by swapping roles!
Get the right position
Believe it or not, a big part of using the right cunnilingus techniques is about getting the perfect position for it. Traditionally, the woman will lie back on the bed while you lie down between her legs and lick her to orgasm.
There are plenty of other positions for it. Why not have her bent over a desk? If she spreads her legs it'll give you better access to her body and make things that little bit kinkier. You can also then tease her asshole for some rimming, if you so feel like it.
Not for you? Try adding a pillow under her ass while she lies back on the bed. This will give you much better access to her g-spot with your fingers, and the change in angle might be just what she needs.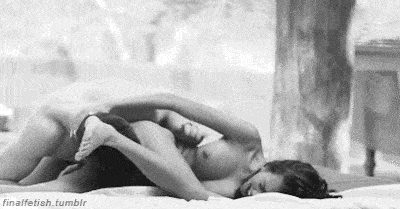 Ask her what she wants
Of course, out of all of the cunnilingus techniques there is one thing that you can do with each and every one of them to make her feel amazing. It is by far one of my favourite sex tips to share, and a surprising number of people don't actually think to try this in the bedroom.
Ask her what she wants.
Create a safe environment for your partner to talk about sex. Show that you are willing to listen to what she has to say and to act on it. She'll feel more comfortable sharing things with you and she can then tell you how to pleasure her. No guessing required!
Your favourite cunnilingus techniques
Giving her oral sex doesn't have to be complicated. There are plenty of different cunnilingus techniques out there for you to try, and if you still haven't found what works? Just ask. It shows your partner that you actually care about their pleasure and that you want them to feel good. What could be bad about that?
Got a few tips of your own you'd like to share? You can leave a comment below with them. Tell us how you use your mouth to get your partner off. You could even tell us all about your favourite oral sex positions to try!
Lara Mills is a writer who has four years of sex industry expertise behind her. Since she entered the adult industry, she has worked on the Escort Advertising forums, before moving into her current role three years ago.

Since then she has gained a fine reputation with her blogs on sex advice, sexual health and amusing news stories from around the globe. She is also a campaigner for the rights of sex workers from all over the world.

In her spare time, Lara keeps herself active by going running, and is something of a film buff. She also loves to go travelling.
Latest posts by Lara Mills (see all)