Since I have been talking about nothing but lesbians for the past couple of weeks, I think it's about time that I start talking about some men-on-men smut.
Despite what you may think, straight girls get turned on watching gay porn; some of my friends confessed to me how hot they got when they used to see Russell Brand kissing another guy on stage. Russell Brand isn't the kind of guy that I would get hot and horny over, but I'm not really picky over gay porn. However, for all of the hot homosexuals that are picky, and want to find out which type of Gay Porn can make their cocks hard the most, it would be good to know about some of the different kinds of guys that they can jack off to.
Twink
I can guarantee you that if you type in the word 'gay' into any porn site on the internet, you will get at least 20 'twink' videos on the first page. Like the range of shoes that Kim Kardashian keeps in her wardrobe, there are many different types of gay guys that fit a specific category on the homo chart; the 'twink' category is one of the most popular that you'd come across on the net.
While it has no affiliation with America's favourite candy, a twink is a guy that is very young, and very slender, if not skinny. You'd normally find those kinds of guys in 'skater boy porn' or 'emo smut'.
Bears
For people that like guys with a lot of cushion for the pushin', you would definitely enjoy wanking to Bear porn. No, I'm not talking about bestiality or zoophilia. Bears are big and fat in nature, and are often covered in copious amounts of hair, hence, the 'bear' name.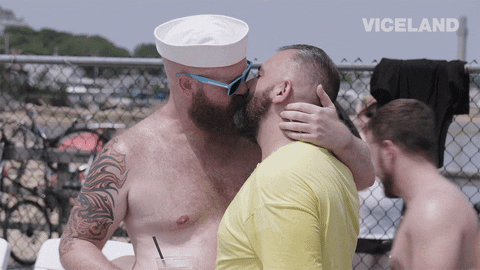 A man can be classed as a bear at any age, although, it's normally men over the age of 40 that you'd see in homo smut. However, one of the important aspects that they have to have is that they're very masculine; you would see that bears are usually the ones on top in gay porn; lumberjack porn in particular.
Cubs
If you want to know what the miniature version of a bear is, it is a cub. Not really that hard to guess, is it? Anyway, they basically look like bears, but shorter and younger; I think this category exists because there are some people that don't want to feel like they're masturbating to someone's grandpa.
I don't know why, but cubs are also described as 'husky' on the internet. In my opinion, if a gay guy is described as a husky, I would think about wolves instead of bears. Speaking of which…
Wolves
Yes. Yes, there is a section where 'Wolves' exist. They are like bears, but more lean and muscular; imagine a topless Joe Manganiello in your head, and you got yourself a wolf. Wolves are the kind of guys that you would see in gay military porn, where a Private wants to get promoted to a Sergeant, and the only way he's going to get that promotion is if he sucks the Colonel's dick. Additionally, you would see wolves in gym porn, where things would get hotter than they should in the men's changing rooms.
Drag Queen
Although it doesn't make you instantly gay if you get horny over drag queens, it is a popular search on a lot of porn sites. If you don't believe me, go and type in 'drag queen porn' and tell me that they're not listed on any gay sex site whatsoever. Go on!
Moving on, if you don't know what a drag queen looks like, then you clearly haven't heard of the show called 'Rupaul's Drag Race'. Again, drag queens aren't the guys that I would masturbate to, but I know that some of my homosexual friends would….the homosexual friends that are guys.
As far as I'm aware of, those are 5 of the most popular gay porn searches on the net. But then again, people post all kind of crap on the cyber network, so I want to know what kind of gay guys you're into. Yes, you. Click on your favourite choice in the poll below!
Zoe Jaspers has worked in the adult industry for over a year, but she has already gained a fantastic reputation in the field. As a writer, she is passionate about bringing the reader some of the most interesting blog content around.

She is possibly most famous for her erotic stories, but is equally adept at giving top quality sex advice, all the time bringing in her 'personal experiences'.

When she isn't sharing her most intimate encounters, Zoe keeps herself active by watching videos on Youtube, and listening to music.
Latest posts by Zoe Jaspers (see all)