Girls, we've all worried about it at least once in our lifetimes. You've decided to throw a party at your house, where loads of your friends are going to get drunk and crazy for one night.
You'll have fun at your party where you will drink copious amounts of spirits, laugh at all of your friend's vagina jokes, and turn up the music volume to the point where you might receive an eviction notice in the morning. However, no matter how much you would enjoy your house party, you'd be worried about some of your friends going into your room without your permission. Why? Because the number of sex toys you have in there can fill up a whole fish tank.
Your sex life can be as private or as public as you want it to be, so if you don't want to tell your friends that you masturbate 17 times a week, that's not a problem! It's embarrassing when your friends would run towards you with your favourite dildos in their hands, while they'd screech the phrase,
'Oh my God! I can't believe that you actually have one of these!'
Furthermore, it's mortifying when their parents would stay at your house for the weekend, and they'd snoop around your room to see if you've started smoking or taking recreational drugs, only to find your butt plugs and anal beads in your drawer.
Ladies, to avoid any arguments, you can be clever about where you hide your sex toys, where you can laugh about it later and think to yourself, 'I can't believe that I hid my vibrating bullet in my kitchen drawer!' Don't actually hide your vibrating bullet in your kitchen drawer, that's unhygienic.
But where could you hide all of your sex toys when your friends or family are around? You can't exactly hide them in your coat pockets…or could you?
1. The good ol' bedside drawer…with a lock
Don't be tempted to steal your drawers from the desk at your office; there is another way for you to get a locked drawer where you don't have to receive a disciplinary from your boss for theft.
You can find all kinds of little bedside drawers that have a lock inside for things that you don't want to expose to your friends and family, such as your 9-inch dildo or your Durex strawberry flavoured lube. Furthermore, you can place them within an arm's reach whenever your clit starts to feel tickly at night, where all you have to do is slip in your key, pull out your drawer, and have as much fun as your sex toys as you want.
2. The simple yet effective shoe box
Not everyone wants to buy a bedside drawer with a lock that will look like it's begging to be busted open. Some people would like to hide their anal beads in things that don't look so obvious, like a shoe box.
The great thing about hiding your sex toys in shoe boxes is that no one would expect to find all of your kinky trinkets in a container that used to hold your Jimmy Choo stilettos. Moreover, you don't have to worry about choosing a particular room to put your sex-toy-shoe-boxes in.
You can put it underneath your bed, in your wardrobe, on top of the shelf in your living room, or even in the garage. Some of those ideas are quite stupid, but the show you that you can leave your shoe boxes anywhere and not have to worry about people looking into your shoe boxes. So, yeah…shoe boxes.
3. The ever-so-handy coat pockets

I'll tell you a funny story. One of my closest friends came over to my place one night for a catch-up, where we've had a couple of glasses of wine and a few episodes of 'Girls' on my laptop. I slipped my hand into my hoodie pockets, only to pull out an empty condom wrapper for my friend to gasp at. My only reply at the time was,
'I have very interesting nights.'
Like shoe boxes, no one would expect to find your sex toys in clothing pockets. Depending on how big your dildos are, you can leave them in your coat pockets and go on with your usual business.
I would recommend that you leave them in coat pockets and not jacket pockets because your sex toys can show through the fabric of the jacket. You wouldn't want to be hanging out with a hungry friend that'd be staring at your pocket before asking,
'Can I have the banana that's in your pocket, please?'
However, hiding your sex toys in coat pockets does make it look like you're hiding them in plain sight.
I mean, you can hang your coat in one of your mate's coat-room, where you can go back to get your vibrator whenever you get bored of your girlfriends talking about their cheating ex-partners, Michael and Brad. I wouldn't recommend doing that because it's plain rude, but whenever you feel like your sex toys are not safe at home, you can always leave them in your pockets.
4. The multipurpose makeup bags
This is a personal favourite of mine.
Do you remember that article I wrote about sex toys that look like beauty products? Well, now you can make bullets and vibrators look like mascaras and lipsticks when you just put them in the makeup box. Once you drop them in the bag, they turn into little chameleons that blend into all of your cosmetic products in there.
I may sound a little crazy here, but it's a great thing to do if you have friends sleeping over at your place, and your pussy starts to tingle again. All you have to do is to lock the bathroom door, turn on the shower, go into your makeup bag and press the bullet on your clit to satisfy your desire to cum. What? We all have needs.
These places are not as bad as they sound!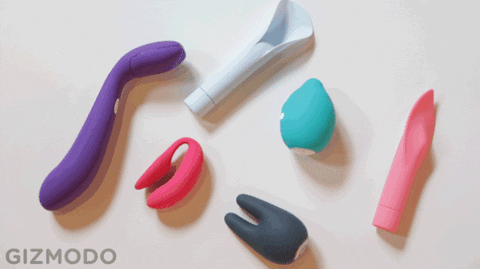 Now, I know how some of these ideas may seem ridiculous to you, but don't knock it until you've tried it.
You'll never know that your shoe boxes may be the right containers to keep your anal beads in whenever you have your parents at home, or that your coat pockets are the best pouches to leave all of your mini bullets in whenever you have nosy friends wandering around your rooms, until you actually place your kinky trinkets in one of those objects.
These are my best places to hide my sex toys, but what are yours? Are they the same as mine or not? Don't forget to leave your comments in the section below or on the community forum!
Zoe Jaspers has worked in the adult industry for over a year, but she has already gained a fantastic reputation in the field. As a writer, she is passionate about bringing the reader some of the most interesting blog content around.

She is possibly most famous for her erotic stories, but is equally adept at giving top quality sex advice, all the time bringing in her 'personal experiences'.

When she isn't sharing her most intimate encounters, Zoe keeps herself active by watching videos on Youtube, and listening to music.
Latest posts by Zoe Jaspers (see all)