Noise is the bedroom is a big deal for many of us. Most of us won't like it when our neighbours decide to have really loud sex. On the other hand, we also hate it when we jump into bed with someone and they refuse to make a sound. So that makes us wonder… is loud or quiet sex better?
Everyone has their preferences, but when it comes to sex, is it better to keep things quiet or to just let rip and make some noise?
Loud sex
There are countless stories in the news about people being fined or even arrested because they have been having loud sex. Their noise will disturb their neighbours and leave them frustrated, making many feel as though they have to get the police involved.
Even when they choose not to get the police involved in the situation, people don't react well to loud sex. How many notes left by neighbours have you seen throughout the years? They could just talk to their neighbour and let them know, but instead they'll leave a note for all to see.
If you don't have neighbours to worry with your noise it can still be a problem. Someone screaming in your ear as you fuck might leave you wondering if they are faking it. It can also cause you to go slightly deaf, especially if their mouth is pressed to your ear. It can really turn us off.
Quiet sex
However, quiet sex can be just as bad. Sure, you won't be disturbing your neighbours and you won't leave your partner feeling as though they'll no longer be able to hear anything, but silence isn't a good option either!
Why? One of the big reasons for it is that we're left in the dark. If you are the type to stay silent during sex, it can be a turn off which leaves your partner confused. Are you enjoying the things that we are doing? Are you bored? Would you rather we just stop altogether?
We aren't mind readers, and staying silent during sex makes us wish that we were. We have no idea how you feel. It is honestly a huge turn off for many people, as it leaves them wondering just what it is that they are supposed to do. They could talk to their partner, but if they don't even moan during sex, can you really expect them to talk?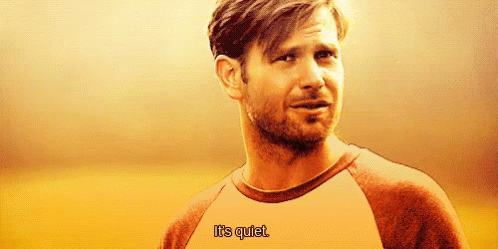 Making noise during sex
In an ideal world, people would make the perfect amount of noise during sex. They wouldn't moan immediately and start screaming as though their life depends on it, and they wouldn't keep their lips tightly shut together in the hopes that their partner will know just what they want.
For the most part, we want the right amount of noise. We want to know that you are enjoying it, but not so much that you have to declare it to people on the other side of the world. A little noise can go a long way, because we want to know that we are doing the right things during sex.
Soft moaning is good, but if you don't trust yourself to do that, think carefully about your breathing. Let out long sighs when your partner does something that you like and allow your breath to catch in your throat occasionally. It will be a huge turn on to your partner to hear this!
Your verdict
Where do you stand on the issue? Would you prefer to have loud or quiet sex? Does the amount of noise made during sex really matter that much, or is it not a big deal to you?
Let us know what you think by leaving a comment in the box below. Is it better to make a bit too much noise or not enough?
Lara Mills is a writer who has four years of sex industry expertise behind her. Since she entered the adult industry, she has worked on the Escort Advertising forums, before moving into her current role three years ago.

Since then she has gained a fine reputation with her blogs on sex advice, sexual health and amusing news stories from around the globe. She is also a campaigner for the rights of sex workers from all over the world.

In her spare time, Lara keeps herself active by going running, and is something of a film buff. She also loves to go travelling.
Latest posts by Lara Mills (see all)