As fun as positions like doggy style and reverse cowgirl are, sometimes they just aren't enough. We want to try something a little more exciting for a change, which is when we pull out the Kama Sutra. The Kama Sutra is full of bizarre sex positions for us to try… though the sheer number to choose from makes it difficult to make a decision.
Some of the positions just seem impossible to do, while others are dangerous. So how do you choose the right positions? We take a look at a few bizarre sex positions you'll want to try for yourself here on the Escort Norway blog.
The head game
We're starting off strong with the head game. For this one your partner will need one hell of a strong core in order to pull it off, but you'll find that it is well worth it. It might seem very complicated to get into, but once you figure out the technique it'll be a cinch!
Start by getting your partner to lie on their back, preferably on the floor. The bed could work, but you'll want a sturdy surface beneath you and the bounce the bed gives might not work too well on your first few attempts.
Your partner should then lift her legs and ass up straight into the air. This is where the strong core comes in. From there you can then kneel behind them and rest their legs and ass against you. They can relax a little as you support their hips and use your legs for stability. From there you'll be able to slip your cock inside of her and enjoy a slow but playful fuck.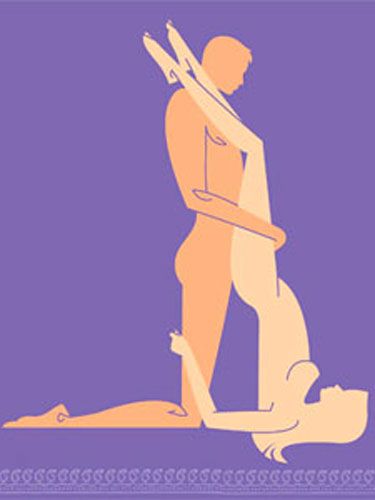 The wheelbarrow
If you love fucking doggy style but want to try something new, this might just be the ideal position to try. It's called the wheelbarrow and will probably remind you of something you used to do when you were younger. Now it has been given a hell of a sexy twist!
You will both need strong arms in order to pull this off, as you'll need to support her while she holds herself up. Probably the best way to get into this position is to start off in the traditional doggy style pose. From there, get your hands on her hips to support her as she puts her legs straight back and behind you.
You can now adjust the position so that it works for you. You might simply want her to push up a little while you kneel, or you might decide to go the whole hog by standing. If you do, make sure she knows what is going on. It is also a great idea to have something soft for her to land on, just in case someone's arms give out. Pillows are great and if you stack them up they can provide a little stability to one of the bizarre sex positions you'll be desperate to try!
The butter churner
You will probably already recognise this position if you enjoy watching porn. It is a favourite for many porn stars as they get the chance to show off their prowess. The women will be able to demonstrate just how flexible they are while the men can enjoy the a kinky position that allows them to take total control.
Of course, this has to be one of the most intimidating positions to look at. Most people can't quite figure out how you would get into it because it doesn't look comfortable at all. For the most part it is simply a position that people try so that they can say they have done it, so why not give it a shot?
Start with her lying on her back before moving her ass up into the air. You can support her, as you would during the head game position, before squatting over her. It might take a while for you to slip your dick into her cunt, but once you'll do you'll find that the angle makes it extremely intense and fun for you both! Well worth a shot… even if you can't keep it up for too long.
Which is the most bizarre sex position?
Personally, of the positions I have mentioned, the butter churner has to be one of the most bizarre sex positions out there. It is not only difficult to get into, but also tough to maintain. In porn videos it will only be used for a minute at most before the stars switch positions.
There are plenty of other positions you can try, or perhaps you have some advice to help others slip into the more challenging sex positions. You can share this by leaving a comment in the box below. Maybe you have heard of some even more unusual positions you want to talk about? Tell us all about it and see what others think when you join the discussion.
Lara Mills is a writer who has four years of sex industry expertise behind her. Since she entered the adult industry, she has worked on the Escort Advertising forums, before moving into her current role three years ago.

Since then she has gained a fine reputation with her blogs on sex advice, sexual health and amusing news stories from around the globe. She is also a campaigner for the rights of sex workers from all over the world.

In her spare time, Lara keeps herself active by going running, and is something of a film buff. She also loves to go travelling.
Latest posts by Lara Mills (see all)