There are so many different sex positions out there. Whether you want to make her cum harder than she has before or you simply want to enjoy sex when you don't have the energy, there will be a list of sex positions out there for you.
The problem with this is that a lot of them tend to contain the same things. You'll see the same positions repeated on each list in a different order, without any new and exciting ideas for you to try. Yes, some of them might be perfect for you, but you'll want to spice things up a little.
We take a look at some of the best sex positions to give her control in the bedroom. Some you'll be familiar with, but there will be others you hadn't thought of before. Take a look to see which you like best.
Sit down strip
You might want to sit back, relax, and enjoy the show. You may even hope that your partner will tease you as much as possible. A good way to do this is with a strip tease.
Your partner will make you sit down on a chair before they start to slowly strip. The best thing about this is that you will have to keep your hands to yourself. As they slowly remove their clothes you'll find that you want to touch them… and they won't let you.
It is a lot of fun for her. She can get you really turned on without even touching you. It is the ultimate tease and puts her totally in control. You'll only get to enjoy sex when she says that you can.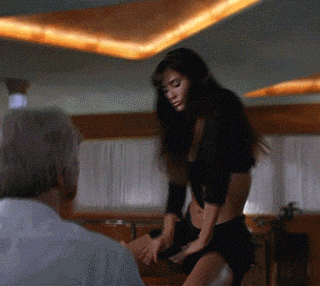 Good ol' cowgirl
This is one of the positions you'll constantly see on sex position lists to give her total control, and for good reason. With her on top you can put your hands to good use by teasing her tits, grabbing her hips, and just rubbing her clit as you fuck.
Not only is it a great position to give her control, but it is also a favourite for most people in the bedroom. It is one that you always go back to because it is good and it works wonders for orgasms.
She can go as fast and hard or slow and soft as she wants. This means that you are totally at her mercy.
Reverse cowgirl
If you find that you like the cowgirl position but want to spice it up a little, then the reverse cowgirl position is ideal. Yes, this is another that appears on a number of lists. However, you'll find that it is incredibly sexy and hot for you both. If you aren't very adventurous in the bedroom, this position can give you the thrill you have been seeking!
If you are a fan of her ass you get to stare at it as she bounces up and down on your cock. You can even reach around and rub at her clit.
Those of you into BDSM will find this position even more thrilling if she ties you up first. You won't be able to touch her in any way. You'll have to simply watch and enjoy it.
Close and in control
Allowing your partner to be in control doesn't mean that you can't have a hot and intimate moment. Woman on top positions are perfect for her to stay in control, but this one allows you to get closer to your partner.
It is best done if you sit upright on the bed. Your partner can then straddle you and slowly grinding on your dick. You'll be face to face so you can control some hot and passionate kissing, but because she is on top she'll still be in control.
You'll have great access to her face for kisses as well as her neck, making this an intimate position that gives her control over how fast or slow the sex goes.
Face sitting
Into body worship and really want to show her how much you appreciate her? Lie back and get your mouth and tongue ready. You can enjoy a little face sitting.
This is fantastic for those of you who love giving oral sex. You can even kink it up a little by getting your partner to demand you give them oral.
She might say to you that she wants to cum and you are going to make her with just your mouth. If she enjoys it, she may start rubbing her wet cunt on your face which will feel incredible for you and be a huge turn on. You'll love being used in this way.
Who should be in control?
Not everyone is happy giving up control in the bedroom. You might find it difficult, especially if you prefer to be the one on top and in charge.
So who do you believe should be in control in the bedroom? Is it you or your partner, or are you happy to share the control between you?
We want to hear from you. Let us know by leaving a comment in the box below and joining in the discussion. You can also vote in the poll!
Lara Mills is a writer who has four years of sex industry expertise behind her. Since she entered the adult industry, she has worked on the Escort Advertising forums, before moving into her current role three years ago.

Since then she has gained a fine reputation with her blogs on sex advice, sexual health and amusing news stories from around the globe. She is also a campaigner for the rights of sex workers from all over the world.

In her spare time, Lara keeps herself active by going running, and is something of a film buff. She also loves to go travelling.
Latest posts by Lara Mills (see all)